We wrote here yesterday on how?Turkish hard currency bonds have been given the nod to join some Barclays global indices as a result of the country?s elevation to investment grade.?Turkish dollar bonds?will also?move to the Investment grade sub-index of JPMorgan?s flagship EMBI Global on June 28.
Local lira debt meanwhile will enter JPM?s GBI-EM Global Diversified IG 15 percent Cap Index ? ?the?top-tier?of the bank?s GBI-EM index. But the big prize, an invitation into Citi?s mega World Government Bond Index, is still some way off. Requiring a still higher credit rating, WGBI membership is an honour that has?been accorded to only four emerging markets so far.
Still, the Turkish Treasury is not complaining.? Even before last week?s?upgrade to investment grade by Moody?s, it was borrowing from the lira bond market at record cheap levels of?around 5 percent for two-year cash. Ten-year yields are down half a percentage point this year. One reason of course is the gush of liquidity from Western central banks.?But most funds (at?least those?who?were allowed to?do so) had?not waited for the Moody?s signal before buying Turkish bonds.?So the bond market was already trading Turkey as investment grade.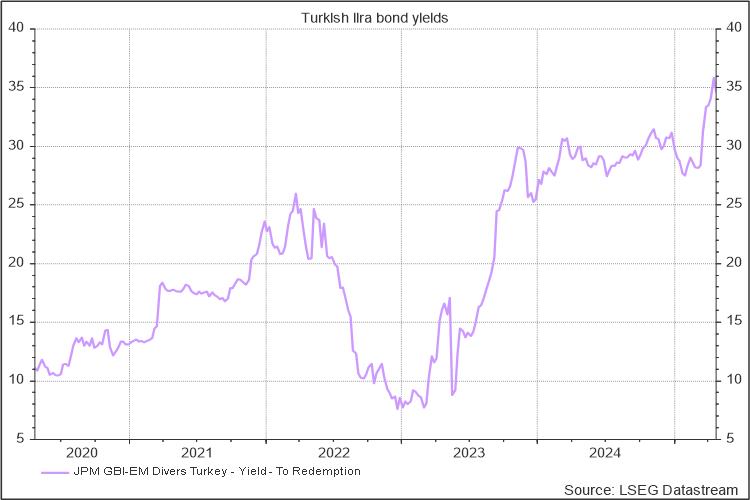 RBS analysts reckon that by end-April, Turkey had raised 40 percent of?this year?s?152 billion-lira borrowing plan, while the average bid-cover ratio at bond auctions this year has been 3.2, compared to?2.5 in 2012. They write:
We anticipate demand to strengthen further following the recent rating upgrade by Moody?s to the investment grade level, providing Turkey with a whole new investor base.
Whether the influx of foreigners is such a good thing can be debated ? non-residents now own almost a quarter of the Istanbul bond market,?from less than 10 percent in 2009, RBS notes. That leaves Turkey more reliant on foreign money of the speculative, yield-seeking variety. The?positive is that lower?yields?make the treasury bond?market?less attractive to?local banks,?which hopefully?pushes them?into?the business of lending to the private sector? the place they really?should be.??Turkish banks now?own 49 percent of the government bond market,??a sharp fall from 57 percent just a year?back, RBS says:
We anticipate (Turkish t-bill) holdings to decline further, as banks allocate funds away from relatively low yielding government bonds and instead lend to the real economy at higher rates.
So investment grade may bring in hot money but if it drives yields down further, that will be good news for the economy ? if more foreigners move to higher-yielding longer-tenor bonds, and second,?if it?weans Turkish banks off their T-bill habit.
Source: http://blogs.reuters.com/globalinvesting/2013/05/23/turkeys-investment-gradebond-market/
jill biden martin luther king jr baltimore ravens ravens Ravens vs Patriots 49ers Vs Falcons Mama Movie